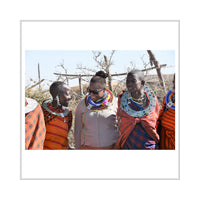 Did you know that…
The names of the NatiNee bags are words in Swahili?
Well, yes, I learned them during my two trips to Tanzania. The first time I heard the Swahili language was in 2016, and I was fascinated by the ease with which it could be learned.
Welcome! = Karibuni!
             When I arrived at the Dar es-Salaam airport in Tanzania, at the immigration window, one of the officials in charge of checking passports spoke to me in Swahili. Surprised, I looked at him and in English I said: "I don't understand!".
             The official, noticing that I did not master his language, incredulous and with a surprised look on his face, asked me for my passport in English. Then he realized: "Cuban, with German nationality, resident in Switzerland". I think that with that cocktail of nations he was even more surprised. He didn't say anything, but just did the whole migratory process, welcomed me and wished me a good stay in his country. Once outside the airport, I was very happy and told my husband Sébastien: "I liked the confusion!".
       In the first week, while Sébastien was working, I tried to chat with some workers in the accommodation, with his collaborators and with his students. That's how I started to familiarize myself with the language. Tanzanians are very nice people, and when they notice that you want to learn and you try to speak Swahili with them, they are very happy.                                                       
             Habari za asubuhi =good morning.               
             Habari za mchana= good afternoon.
             Lala salama= sleep well!
             Na wewe pia= same thing (answer).
             After the first week, the vacations started! Safari, get to know cultures, traditions and customs. When we met Laban Gervas, our guide for the next 10 days, the same thing happened to me as at the airport. Ooppsss, I don't speak Swahili. During the whole tour through the different national parks of northern Tanzania, I learned a lot of loose words with Laban, that I was writing down.
             Two years later, we returned to Tanzania, once again for Sébastien's work. With the difference that this time we lived for six months in the fishing town of Bagamoyo, located 75 km from Dar es-Salaam. There I met Neema. With her help and of a teacher I perfected and increased my vocabulary in Swahili. With Neema, I learned about her traditions, culinary culture and so on. After a month in Bagamoyo, they called me the karibiani (Caribbean).
The NatiNee bags's name are words (alphabetical order)
| | | |
| --- | --- | --- |
| Tanzanian | English | Description |
| Mchwa | Ant | Big bag, perfect to carry a lot of things. |
| Jina langu | My name is | We print the name the customer desires. |
| Kawaida | Usual | Perfect for daily use with capacity for six wine bottles. |
| Kinyonga | Chameleon | We print the logo the customer desires. |
| Kizungu | European way | Small bag with a Christmas stamp on it. |
| Krismasi njema | Merry Christmas | Small bag with a Christmas print on it. |
| Manjano | Yellow | Small yellow bag. |
| Matemezi | Promenade | Safari Collection: Zebra, giraffe, tiger (pictures taken during the safaris of Natividad Gagneux). |
| Mdogo | Small | Small natural color bag. |
| NatiNee Bag |   | Simple with NatiNee logo. |
| Ngiri ya Sukari | Pig and Sugar | Black bag as strong as a sugar pig, the sweetness of red love. |
| Ngome | Strength | Because of the strength and positivity of my friend and model. |
| Nyota | Star | We place the zodiacal sign that the client desires. |
| Punda milia | Zebra | Safari Collection (Picture from Natividad Gagneux). |
| Pwani Bagamoyo | Bagamoyo Beach | Picture from Natividad Gagneux. |
| Chui | Leopard | Safari Collection (Picture from Natividad Gagneux). |
| Tutaonana | See you | Because it goes on the back. |
| Tutaonana mbili | See you 2 | Because of the added pocket. |
| Tutaonana tena | See you soon | It is used to carry belongings on trips. |
| Usanifu Frida Khalo | Frida Khalo Art | Because of the art that this Mexican painter represents. |
| Vuli | Autumn | Fabric with fallen leaves print. |

I don't know if you're familiar with the language, but for me learning it has become a real challenge, and you know why? I'll tell you why. At the end of 2019, I took a genetic DNA test, which showed that I am 10% Masai. Now I understand why, on my first trip to Tanzania at the airport they made me feel like one of them.
I am currently learning Swahili with my friend Lucy Oyubo from Kenya.
Would you like to learn Swahili?
Would you venture to live in a country where you don't speak the language?
How long would you go?
Thank you very much = Asante sana.
Natividad Gagneux
🙑 🙐
Information about the people I mentioned
Sébastien Gagneux:    Prof. Dr. at the Swiss TPH in Basel, Switzerland
Laban Gervan:              Goshen Safaris African tourist guide
                                        https://www.instagram.com/labangervas/?hl=es
                                         Facebook : Laban Gervan
Lucy Oyubo:                Swahili teacher in Basel
                                    https://www.kultur-austausch.ch/
Model and friend:        Yelena Caballero Merencio
Natividad Gagneux: https://www.shutterstock.com/es/g/Natividad10?rid=222111099
Natividad Gagneux                                                  Basilea, Suiza
Fundadora                                                               ©
 

NatiNee Bags

 

2020